Commercial Marina
Boat Rides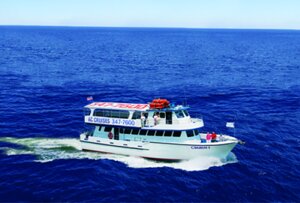 Atlantic City Cruises
609-347-7600
www.atlanticcitycruises.com
Hop aboard Cruisn1, the flagship vessel of Atlantic City Cruises, for the voyage of a lifetime! Whether you choose the exciting two hour Dolphin Watching Cruise, the one hour Morning Skyline Cruise, or the afternoon sightseeing tour, we have a cruise that is perfect for you and your family. In addition to our regularly scheduled seasonal cruises, the Cruisn1 is an ideal venue for private parties and special events April through November. Birthday parties, weddings, corporate outings, fun and fund raisers, motorcoach or school groups, moonlight DJ Dance Parties, or any occasion where you wish to stand out from the crowd, Cruisn1 is a unique destination for your group. Cruisn 1 is a double-deck vessel that is US Coast Guard inspected, certified, and approved for up to 150 passengers. Cruisn1 has two full service bars serving alcoholic and non-alcholi c beve rages and snacks, large dance floor, state of the art sound system, and ot her am enities that are ideal for fun-filled cruises.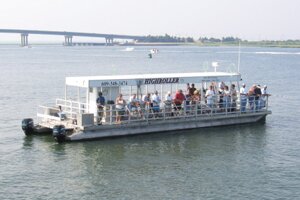 Capt Mike's Highroller
609-348-FISH (3474)
www.highrollerfishing.com
Capt Mike's Highroller is Atlantic City's only Back Bay fishing boat. We guarantee no seasickness and Lots of fun for the family. We catch Fluke, summer flounder, stripers, Bluefish, weakfish and more! All of our trips are in calm sheltered waters so bring the whole family on Atlantic City's most comfortable boat. Whether you are an old salt or novice our experienced crew will help you catch the big one on Capt Mike's Highroller.
Atlantic City Parasail
609-345-1212
www.atlanticcityparasail.com
FOR THE EXPERIENCE OF A LIFETIME visit Atlantic City Parasail. Hop onto our custom 31' parasail specific boat with up to eleven of your friends, and before you know it, you'll be 500 feet in the air viewing the breathtaking sights of Atlantic City and the surrounding area. You don't need to have any experience at all. You don't need to even get wet. But, you will need reservations. So call us at (609) 345-1212 to schedule your trip today.